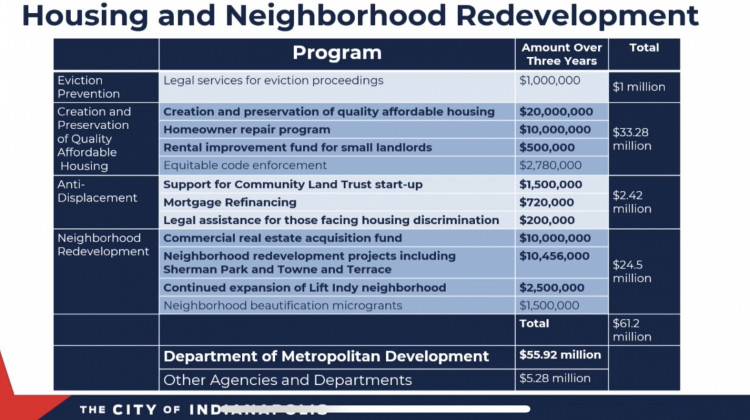 Indianapolis faces a severe shortage of safe and affordable housing. Now, millions of federal dollars are set aside for the preservation and creation of housing solutions.
More than $60 million of US bailout and HUD money will go to a wide variety of projects this year. The Indianapolis Department of Metropolitan Development presented plans to a commission this week.
DMD Deputy Director of Strategy and Collaboration Rusty Carr said the vision is based on data and community discussions.
"We wanted to understand from our partners that we have this historic amount of funding, what really makes the best sense and how do we really think about this long-term money and address really deep-rooted issues," Carr said. .
The money will be used for mortgage reform, home repairs, eviction prevention, rent improvements and neighborhood redevelopment efforts.
DMD paid particular attention to equity and gaps in home ownership and saw the need for reform and creating opportunity.
Carr said programs like homeowner's repair take up more money, but reform is also the goal.
"We know that if we only invest $10 million in the program that exists, we won't get the results we want and the changes we want," Carr said.
An additional $2 million will go to the Housing to Recovery fund which provides support solutions for homeless people.
DMD also presented plans for four approved projects that will create 450 new units for low-income residents.
Particular attention was also paid to neighborhoods that are losing affordable housing.

Contact WFYI City Government and Political Journalist Jill Sheridan at [email protected] Follow on Twitter: @JillASheridan.